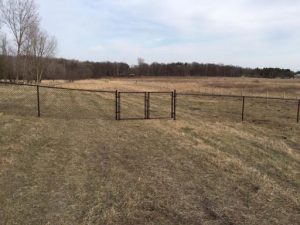 Chain-link fences are one of the most common fencing types around, especially in our area. They are installed at Minnesota schools, businesses, sports fields, playgrounds, airports, and many other areas. There are many reasons why chain-link fences are so popular for residences and business properties. Below are some of the benefits to choosing to install a chain-link fence on your property:
Price: One of the reasons for the popularity of this fence time is the price point. Chain-link fences are the most affordable fencing option to have installed on your commercial or residential property.
Durability: We all know that the Minnesota weather can be brutal. So, when you are thinking about a fencing material for your property, durability is generally one of the most important factors. Galvanized steel chain-link fences will stand up to rain, wind, snow and extreme temperatures without breaking down.
Low maintenance: Another benefit that attracts our customers to chain-link fencing is that there is little if any maintenance required to keep the fence looking its best. Galvanized steel offers an added layer of protection from the weather. Chain-link fences can last for many years without needing repair or replacement.
Custom options: If you are interested in a chain-link fence but would prefer it to look more unique or have it match something on your property, you can opt for a color-coated chain-link fence. We can add a vinyl coating that gives your custom fence added durability.
Professional Chain-Link Fence Installation Isanti
Twin Cities Fence has installed many different chain-link fences in the area. If you live or work in Isanti, MN and are considering a fence for your commercial or residential property, do not overlook the chain-link fence options that we offer. They are highly functional and a sound investment that will last for many years to come. They provide added security without compromising visibility and will be strong and stable for a long time before a repair is even necessary. The team at Twin Cities Fence installs fencing all year round so now is a great time to consider adding a chain-link fence to your property. Our installation experts can help you determine the exact size, shape and material for your new fence. If you would like to learn more about our chain-link fencing options or talk to a member of our team about installing a new fence on your residential or commercial property, give us a call at 612-443-1948.