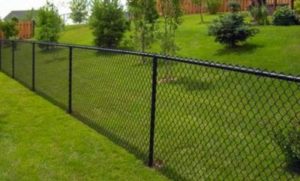 If you live in Blaine, Andover or anywhere in the Twin Cities area and need a reliable, affordable, residential fence installation and repair service, let the team at Twin Cities Fence help you. We are a local company with more than four decades of experience. Our staff can help you find the perfect fence material, size and style for your property. Our specialty is installation and repair of chain-link fences. One of the most popular materials for fences in our area. Chain Link Fence Contractor.
Durable Maintenance Free Chain Link Fence Options
Look around and you will likely notice that chain link fencing is all over the place. Chain link fencing may be the most familiar kind of fencing, because of it's versatile and durable. Below are some of the features, advantages and options you receive when working with a chain link fence contractor:
● Our chain link fences are durable and require minimal maintenance. If you choose galvanized steel for your fence, it will require next to no maintenance. The galvanizing process adds protection from the elements. And if you choose a color option, the vinyl color-coating adds another protective layer.
● Chain link fences are durable enough to withstand the harshest weather Minnesota offers. Wind, rain, extreme temperatures and, of course, snow.
● Speaking of color options, we offer black, brown, and green as PVC color options. If you have another color in mind, talk with us about custom colors.
● Security and privacy are often concerns by homeowners and business owners. Whether your fence is installed to keep kids and pets inside your property or keep trespassers out, or to make it difficult for nosy neighbors to peer into your business, we have size and height options to meet your needs.
● Arguably most important, chain link fences provide the most affordable fencing option. And we do our best to ensure that our prices are competitive and our customer service is always excellent.
Experienced Chain Link Fencing Contractor Blaine, MN
We are proud of the fact that we have a chain link fence contractor for more than four generations in Minnesota. The longevity of our company is due to our commitment to installing an excellent product that meets your needs and offering the best customer service in the area. Contact us to discuss your options by calling 612-443-1948. We are confident we will be able to provide you with multiple chain link fence options at affordable prices. In addition to fencing installation, our team also offers fence repair if you need it!