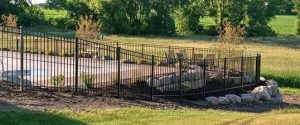 A steel fence can give you the look of a wrought iron fence with added strength and durability and without all the rust. For many business owners and homeowners, a steel fence is an ideal addition to your property. Twin Cities Fence can install several different galvanized steel fence styles, from picket fences with or without top rails, spear top and staggered spear top styles, and a variety of ornamental options that will make your fence stand out and look great on your property. There are many benefits of using steel for your fence system, especially in Minnesota. If you live in the twin cities area, give us a call and we can help you make the right choice for your yard.
Why Choose A Steel Fence?
First, the Minnesota weather can really cause damage and severe wear and tear to many fencing materials like wood. A steel fence is one of the most durable materials that can be used for a fence, and can withstand snow, wind, sleet, rain, intense sunlight and even hail, for many years without a problem. All of our steel fencing systems are also coated, providing extra protection against the elements. This means very little (if any) maintenance for you when it comes to your fence. A steel fence will not corrode or rust and will look as good as new many years after installation. Steel fencing will keep your property safe and private and will let others know that they should not enter unless invited. You will notice steel fencing around swimming pools and sporting areas, on daycare and/or school property, in addition to commercial sites and residential properties.
Steel Fence Installation Service In Minnesota
There are many options in terms of choosing a style in your steel fence as well. You can design a steel fence in the size, shape and style that works best for you and maximizes the space you want to enclose. The bottom line is that a steel fence is a great investment for your property. Twin Cities Fence has more than forty years of experience with fence installation and completes this work all year round. Our crew is experienced, knowledgeable, and highly professional customer focused. We strive to understand our customer's needs and goals so that we install the perfect fence for your space and your budget. If you would like to learn more about steel fencing options, give Twin Cities Fence a call today at 612-443-1948 for a free estimate. We also always offer 24/7 emergency repair service to clients with unexpected fence damage.