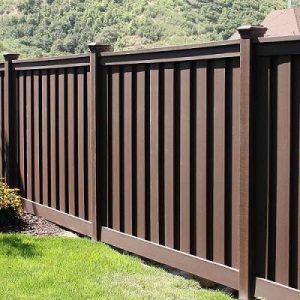 When you first decide you want to add a privacy fence to your yard, there are a good number of material and style choices, all before you even consider color options. Of course, wood fences are the first thing that comes to many people's minds. It is a great choice and has its own benefits. But, before you make the decision, take a look at composite fencing material choices such as Trex. Composite fencing is growing in popularity all over the country. Composite fences are made from a mixture of wood and plastic and come in an array of styles and colors.
Low Maintenance Option: When you decide to install Trex fencing on your property, you will have a fence that is built to last for many years to come, with minimal maintenance. Wood, if not protected or sealed, eventually falls to decay and can be a detractor to your property. Composite fencing or Trex fencing contains a mix of plastic and wood at the core and is usually coated in a protective layer from the factory. This prevents pests like termites from causing damage to the fence. It will also help to prevent mildew and guards from the damaging sun rays that can cause colors to fade.
Durability: While vinyl is a good choice, as an alternative to wood, it typically is hollow at the core. This opens the door for cracking and breakage. Composite fencing has a solid core and provides a very dense and sturdy board.
Lifespan: A wood fence, dependent on the conditions of the environment in which it is placed, should last between 7 and 30 years. Composite fences are built with a level of durability that ensures it will last at least 30 years. If a piece gets damaged, replacement boards are extremely easy to install, and due to its resistance in color fade, the new board should nearly match the existing boards. New wood planks will almost always stand out, no matter what.
Environmentally Friendly Fencing Material
More often than not these days, there has been an emphasis on using sustainable products and products that do not have a negative effect on the environment. Composite fencing is not only made from recycled materials, but there are also not the chemicals injected that keep pests away and allow it to be water resistant, like there is in wood products. If the fence is damaged or removed, composite fencing is 100% recyclable.
Experienced Trex Fencing Installers In The Twin Cities
If you are considering Trex fencing and would like to discuss the many options you have for styles and color, give the fencing experts at Twin Cities Fence a call today. Call (612) 443-1948 to consult with professionals today.