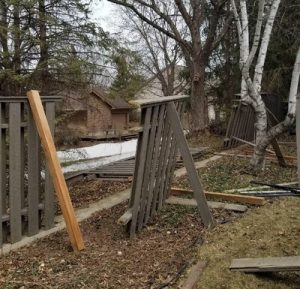 Spring is one of the most beautiful times of year in Minnesota. Things begin to turn green outdoors, trees, and then flowers begin to bloom and it is a great time to get outdoors and enjoy the warmer weather. After a cold, harsh winter where we've had no choice but to spend more time indoors, this change cannot come soon enough. However, we all know how much of a toll a Minnesota winter can take on the exterior of our homes. If you have a fence that surrounds your property, you may notice that the harsh winter weather has also damaged a portion of your fencing. This is no problem for the team at Twin Cities Fence. We specialize in all types of fence repair and can come out ASAP and get your fence back to doing its job!
Spring Fence Repair
When the weather lifts in the spring and we begin spending more time outside, it is very common to notice that something has happened to your fence during the winter months. Fencing materials break down over time and need to be replaced and winter storms can down tree branches causing minor or major damage. Our team has been working full time throughout the year to complete high quality and affordable fencing repairs when you need it, so that you can have the safety, security and privacy you want from your fence.
Fence Section Repair
Repairing a Section, our fencing contractors can complete small repairs or major ones and will never pressure you to replace your fence unless we see that as your only viable option. We repair all types of fencing materials including wood fences, vinyl fences, and steel and aluminum ornamental fences. No matter what your fencing repair needs are, we can help. We also understand that repairs do not always happen at the perfect time, so we also offer 24/7 fencing repair. Twin Cities Fence has been open and operating and full capacity throughout the pandemic, offering contact-free options for our service, estimates and payment.
MN Fence Repair Contractors
Spring is the perfect time to take a look around the outside of your home and make some necessary repairs. Your fence serves an important purpose – it can keep your kids and pets contained and provides you with an extra layer of security and privacy. If you notice that your fence may be damaged, reach out to the team at Twin Cities Fence. We will respond quickly and get your fence back in working order in no time. Call us at 612-443-1948 for more information.