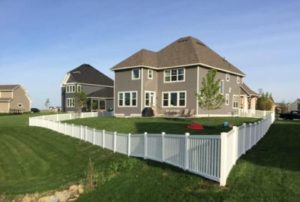 Looking for a way to create some separation and privacy from your neighbors? Do you have a pet that needs to be able to run around the yard and expel energy? Do you own a business where you need a barrier to protect your equipment when you're not around? Well, there is one simple solution to all of these scenarios. If you are in the Minneapolis, Plymouth or Maple Grove, MN areas, our team at Twin Cities Fence is an affordable fence contractor that can provide separation, protection or a barrier for your property. To top it off, we even bring some flare to the look of your home's exterior.
Not Your Average Fencing Contractor
There are plenty of fencing professionals in the area to choose from, however none can match the total package that our staff at Twin Cities Fence provides our customers. Affordability is one of our key ingredients that keeps our customers happy. Investing in a fence can be expensive, so we want to make sure that we are offering our clients the best price available at all times. In addition to affordability, a partnership with our fencing experts gives you access to 24-hour emergency fence repairs. Whether your fence is damaged during a heavy storm or an unexpected issue occurs with your fence, we'll respond quickly so that your fence can get back to 100%. A poorly functioning fence is the last thing you want to be dealing with on your commercial or residential property, which is why a quick response time is so important. Other perks to choosing Twin Cities Fence is access to the best fencing materials on the market and more than four generations of experience in the fencing industry.
Diverse Fencing Options
What fun is getting a new fence for your property if you don't have options? With any big purchase, being able to evaluate and decide on which fence works best for you is critical. By choosing Twin Cities Fence, you'll have access to a wide range of fencing styles and materials. Whether you'd like vinyl, cedar wood, galvanized steel, color coated, steel or aluminum fencing, we've got you covered. Additionally, we allow our clients to pick from different style fences including:
Privacy Fence
Chain Link Fence
Ornamental Fence
Vinyl Fence
Wood Fence
Ranch & Farm Fence
At Twin Cities Fence, we have a passion for talking to members of the Minneapolis, Plymouth & Maple Grove, MN communities about their fencing options. If you are looking for an affordable fence contractor in the area that has your best interests in mind, give us a call today at (612) 443-1948 or email contact@tcfmn.com.