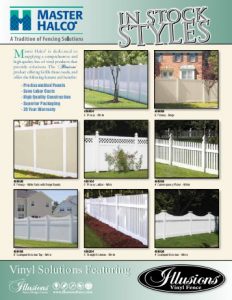 Many property owners in Minnesota would argue that there is no better way to get away from the busy hustle and bustle of the world than spending time outside. While this is an ideal option for many homeowners, others hesitate to spend time in their yard because of the lack of privacy. If you'd love to spend more time in your yard, but are in need of some additional privacy, our team at Twin Cities Fence is here to help. We're eager to share with you some 2020 privacy fencing options that you can consider.
Privacy Fencing Offerings for 2020: Do you feel like your neighbors are too close and can see too much of what's going on around your property? Is this holding you back from spending more time outdoors? Do you have small kids, and do you live around a busy area? Well, a privacy fence from Twin Cities Fence is the perfect option in either of these situations. Our reliable and affordable fences not only provide more privacy, but they also provide added protection as well. The good news for our clients is that we proudly offer multiple privacy fencing offerings in 2020. Our most popular privacy fences include:
● Wooden Privacy Fence – Looking to go the simple, traditional route with your privacy fence? Well, a wooden privacy fence provides you with maximum privacy, making it extremely difficult for other observers to see past the fence line. This option is great for property owners looking to safely enclose their children or pets on their property. At Twin Cities Fence, we offer various style wooden fencing that we're happy to go in depth with you on.
● Vinyl Privacy Fence – Our fencing experts at Twin Cities Fence have seen a big increase in the popularity of vinyl privacy fencing in recent years. The reason for this is likely due to the fact that it is more durable than wooden privacy fences. This fencing option is virtually maintenance free and is a great option for your privacy fencing needs in 2020.
● Chain Link Privacy Fence – If you are less concerned about privacy, our chain link privacy fences may be ideal for you. This option is great at creating definite property lines and can securely keep children and pets on your property as well. This is our most affordable privacy fence option for 2020. We do offer privacy screens for this style fence as well.
As you can see, our fencing professionals at Twin Cities Fence provide the Minnesota community with plenty of privacy fencing options for 2020. If you are in the market for a privacy fence and would like to learn more about our privacy fencing options or would like to request a free estimate, give us a call today at (612) 443-1948.