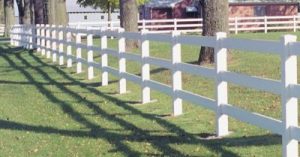 Post and rail fences (commonly referred to as split rail fences) aren't just restricted to rural settings or large tracts of land – this style of fencing can add value and beauty to properties located even in suburban settings. Post and rail fencing is an excellent way to clearly mark the boundaries of your property without blocking views or decreasing visual appeal. Not only will it increase landscape improvements, but it will also add the extra visual flair needed.
Styles: Post and rail fencing comes in both rustic and contemporary varieties, depending on its environment of installation. While post and rail fences were historically used to corral livestock, modern enthusiasts have taken an interest in this classic form due to its clean lines. With post and rail, you have many customization options such as color selection and vinyl material materiality available allowing you to tailor it specifically to you or any surrounding environment.
Consider Height: Fence installation options vary. From two rails up, or adding three or four, depending on aesthetic considerations; three is often enough, if necessary add four rails. Mesh or chain link sections can also be secured from bottom rail down, providing extra safety and protection, perhaps sufficient to keep small children or animals within their fence.
Privacy, safety, and security: Wire mesh can be installed behind or over rails to add an extra level of safety for toddlers or small animals, while this type of fence does not block views nor offer privacy or security benefits – something to bear in mind when selecting one for your home.
Other considerations: Homeowners may need to factor additional costs and considerations into the total post and rail fence cost, including surveys and permitting costs, landscaping work such as land grading or tree removal, old fence removal, gate installation costs and any finishing touches such as painting or staining the fence.
Contact Twin Cities Fence today if you're in search of new fencing and would like more information about split rail or other forms of fences. Twin Cities Fence serves both residential and commercial customers throughout Andover, MN; call (612) 443-2948 today to make an appointment.