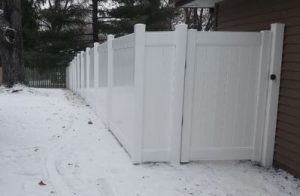 Nothing takes a toll on a fence like the relentless winter weather in Minnesota. Snow and ice are really heavy and, combined with the wind and cold temperatures day after day, you may find that your fence is just not holding up to the elements this winter. Twin Cities Fence completes fence repair twelve months a year so you do not have to worry about being told that a repair will have to wait until spring. Our team can come to your property, assess the damage and complete the necessary repair quickly, efficiently so that your fence will continue to be functional throughout the winter.
Your fence is exposed to the elements 24 hours a day and 7 days a week. So, we offer our repair services around the clock as well. Over time, it is perfectly natural for it to become worn down and even damaged. Fortunately, this does not always mean that you need an entirely new fence. Our fence repair contractors are experts in repairing damaged and vulnerable portions of a fence so that it can continue to do its job. We will leave the sections of your fence that are still in good shape alone and focus only on the areas that are damaged and in need of repair. We will use fencing materials that will blend in with the rest of your fence so that any newly replaced areas blend in with the rest of your fence.
Year-Round Fencing Repair In Minnesota
Twin Cities Fence completes fencing repairs on all types of fences including wood fences, aluminum and steel ornamental fencing, trex fences, and chain link fences, as well as vinyl fencing. We have been in the fencing business in Minnesota for more than forty years and our staff is experienced and professional. Our prices are affordable, and we stand behind our work. We will be honest and upfront with you about exactly what we think you need for your fence repair and there will be no guesswork when it comes to a price estimate and a timeline for repairs.
Experienced Fence Repair Company Serving The Twin Cities
Your fence provides an important function on your property – no matter how you use it, we understand that you want to be confident that it is doing its job. Twin Cities Fence understands this and offers our fence repair and replacement services all year round. For more information, call us at 612-443-1948.