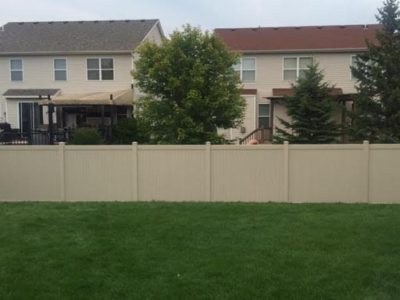 At Twin Cities Fence, we want our fencing customers to receive the total package when it comes to their fence installs. Not only does our dedicated staff offer expert installation with high quality fencing materials, but we also offer a wide variety of fences that can be installed extremely quickly when compared to our competitors.
Faster Fence Installs
Typically, it takes most fence companies 3 or so days to install a fence, regardless of the material or style. At Twin Cities Fence, we're able to install your new fence in one day. This is not a typo. To top it off, our exceptional installation techniques are just as reliable with a one day install. By offering a one day fence install option, we do not cut corners to install your fence in this short period of time. As a fourth-generation fencing company, our fence installers have mastered the installation process so that attention to detail is still a critical aspect of our installation projects, even when they are completed in one day.
Strong & Durable Fencing Materials
At Twin Cities Fence, we take pride in offering our clients a wide variety of fencing materials to choose from. Regardless of the fencing material that you choose, you will find that our fences are stronger than the competition. Our new fence installation is offered in a wide variety of durable materials such as vinyl, wood, aluminum, chain link and steel. Thanks to our decades of fencing experience, we've found that you don't have to reduce strength and durability in order to offer a 1 day installation option. By teaming up with Twin Cities Fence for your upcoming fence installation, you get the best of both worlds when it comes to speed and durability.
Why Choose Twin Cities Fence?
One big complaint that many homeowners have with other fence companies is that their yard is left a complete mess after a fence is installed. At Twin Cities Fence, we take the exact opposite approach. To ensure that our clients are fully satisfied with their fence installation, we make it a point to leave the property in pristine condition. Rest assured that your property will not be torn up during your fence installation project.
When it comes to fencing companies, you simply cannot beat the total package that our team at Twin Cities Fence provides. Not only do we offer one day installation options, but your newly installed fence will also be stronger and more durable that the competition. Lastly, we'll make sure that your property is clean and not torn up after your fence installation project is complete. To learn more about our 1 day fence installation option and Twin Cities Fence as a whole, give us a call at (612) 443-1948.