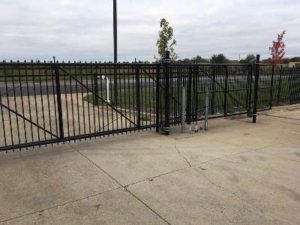 Does your commercial property need some extra protection? One way to accomplish this extra protection and security is to invest in a commercial fence. You will need a reliable, affordable and experienced commercial fence installation company like Twin Cities Fence who have been handling these projects for four generations. Unlike other fencing companies, we have be fortunate to retain our employees for many years. We treat them right, so they work hard, have gained a lot of experience and because of this, our crew installs fencing faster then any other competitors crews in the twin cities metro.  Faster installs, mean less installation cost, saving our customers money. NO ONE BEATS OUR PRICES…NO ONE! 
Twin Cities Commercial Fence Installer
The installation aspect of your commercial fence project is just as important as the materials used to build your fence. By partnering with Twin Cities Fence, you'll gain access to an installation team that has the experience to back up their work. Regardless of the materials used, shape or size of your commercial fence, we've got you covered. Over the years, we've installed all types of commercial fences. Attention to detail is a requirement for all of our fence installers. We do not cut any corners during the installation process. In turn, our customers receive high quality commercial fences that are built to last. If you ever have any issues with your commercial fence, our staff at Twin Cities Fence offers 24 hour fence repairs so that your commercial fence gets back in working order quickly.
Commercial Install Options
Another reason to choose Twin Cities Fence for your commercial fence installation needs is that we offer a wide variety of installation options. Some property owners are looking to protect expensive equipment, while others may simply be aiming to create a barrier with a neighboring property. Some of our most common commercial fence installs include:
● Privacy Fences
Would you prefer to keep certain parts of your commercial property restricted from customers or other guests? If so, let us install a commercial privacy fence on your property to give you that added privacy that you've been looking for.
● Chain Link Fences
his affordable option is a great way to keep your commercial property secure. After our chain link fence installation is complete, you'll be able to rest better at night knowing that your equipment or other belongings are secure while you're away from your property.
● Ornamental Fences
If easy access to and from your commercial property is a necessity, investing in a steel or aluminum ornamental fence is a great option. Our installation team can install a swinging or roller gate so that you can enter or exit your property easily.
● Vinyl Fences
This weather resistant commercial fence option has become more and more popular with our commercial fence clients. Our staff can install vinyl fencing in a variety of styles.
So, if you feel like it is time to add some extra protection around your commercial property, it is time to invest in a durable, long lasting commercial fence. When choosing your fence contractor to partner with, do not underestimate the importance of an experienced and effective commercial fence installation team. That's exactly what you get by choosing our staff for your upcoming commercial fence installation. To request a free installation estimate, give us a call today at (612) 443-1948.