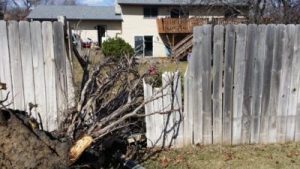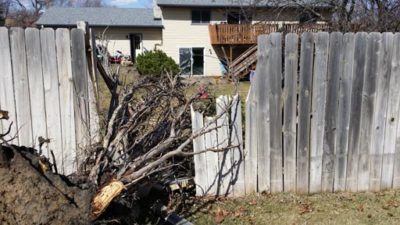 If there is one thing that Minnesota residents are used to, it is unpredictable weather. Over the course of a year we may see snow and ice storms, thunderstorms, tornados and wide ranging temperatures. We do our best to keep the exterior of our homes in good shape as the elements take their toll on our siding, driveways, roof and fencing. Twin Cities Fence is a local storm damage fence repair company serving the North Metro area. We complete fence repair all year round. We understand just how unpredictable our weather can be and can help you 24/7.
Year-Round Fence Repair Services in North Metro
A storm can come without warning and do significant damage to your property. Your fence is constantly vulnerable to the weather and over time it can begin to wear down and be unable to do its job. Our team can complete repairs on all types of fencing materials, including vinyl, wood, steel and aluminum, just to name a few. We can complete a repair on the portion of your fence that is damaged. If the rest of your fence remains strong and in good condition, we will not pressure you to do more than repair the section that has been compromised. We complete simple and small repairs as well as large scale repairs and replacement.
Our team is known for excellent customer service, high quality repair work and affordable pricing. We have been completing fence installation and repair in the North Metro area for more than forty years. We understand the weather in the area, and we know how to repair a fence so that it will be able to withstand the weather for many years to come. In addition, we have implemented new safety measures to ensure that you, your family and our crew stays safe during this unprecedented time. We can complete our work without any contact – including giving you an estimate and accepting payment. We can provide you with details about an estimate and the specifics necessary for the repairs virtually, either over the phone or email.
Affordable Fence Repair Contractors
We cannot control our weather. It will continue to bear down on us periodically in the North Metro area. Our team can make fence repairs so that you can continue to safely enjoy your property without any concerns. If your fence has been damaged in a recent storm, call our fencing repair specialists at 612-443-1948.