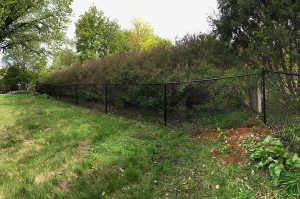 Now that the weather is warmer and you and your family can spend more time outdoors, you may be thinking of different projects that might improve how you are able to use your exterior space. A new fence can give you many different options when it comes to spending time outdoors. A fence adds a great new look to the exterior of your property and an increased level of security, but it also gives you the opportunity to let your kids and pets run around without worrying! Twin Cities Fence specializes in black chain link fence installation for homeowners in Minneapolis. When you partner with us, you will get a high-quality fence for an affordable price. No one beats our price! Our installation contractors go above and beyond to provide our customers with the best fence for the area.
Black Chain Link Fence For Your Property
Twin Cities Fence has been in the fencing business for more than forty years. Not only are we the best installers in the area, but we can help our clients choose the best fence for their property and their budget. Some of the most popular residential fences that we install are cedar wood fences, vinyl fences, steel and aluminum ornamental fences, and black chain link fences. We work with you to understand your specific goals for your fence – do you want privacy so that you can entertain guests without including all of your neighbors? Do you want a safe space for your kids and pets to be able to run around? Do you want to make it clear where your property ends, and another begins? Or are you looking for a fence that offers all these things? Once we understand your goal and see the space you have, we can offer you different options that will meet your needs. We can go over positives and negatives about each possibility and help you make the best possible decision.
Fence Design And Installation In Minneapolis
When we design a fence, we consider many different things including:
● Aesthetics including size, shape and color
● Strength and durability of the materials
● Maintenance needs
● Budget
● Unique aspects of your property
We also offer free estimates so you can know upfront exactly what each of your options will cost. We are happy to answer questions and keep working on the design until we find the perfect fence for you. For more information about our fence installation services, give us a call at 612-443-1948.