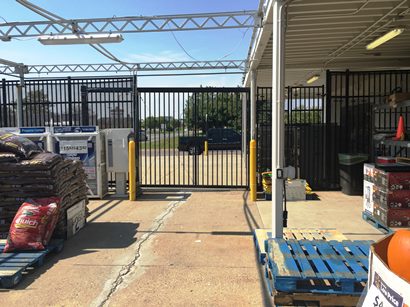 While there are a whole host of local fence contractors who would be more than happy to install a simple chain link, or wooden privacy fence, few are able to provide high quality gate repair and installation. Fence gates can be quite complex, and if you have one that's not functioning properly, you know just how frustrating they can be from time to time. Unfortunately, there's only a few companies in the area that are experienced and qualified enough to work on a wide array of different fence gates. Twin Cities Fence is one such company. Whether you're looking to install a new fence gate, or you're tired of dealing with an existing fence gate that's not working properly, feel free to reach out to our team for help today.
Commercial Chain Link Roller Gate Repair and Installation
Our commercial customers often prefer chain link fencing systems to provide a fully enclosed fencing system on their properties. These fences typically need a chain link fence gate to offer full protection. Depending on the size and style of the chain link fence, you'll likely see a chain link roller gate or a swing gate. Whichever option you're looking for, Twin Cities Fence is up to the task.
Commercial gates can be a significant deterrent for theft, and we have scores of satisfied commercial customers who have installed commercial fences and gates over the decades that we've been in business.
Residential Fence Gate Installation
If you're looking to offer an additional layer of security on your residential property, a fence gate may be the perfect option. With a variety of different designs and styles, a fence gate can not only protect your home and family from a security standpoint, but it can also add an interesting aesthetic element as well. Whether you're looking to complete an existing fence system, or simply to install a gate at an entry point, we'll be more than happy to offer our experience to find a solution that works well for your unique needs.
Contact Twin Cities Fence Today for a Free Estimate
Whether you're in need of gate repair or gate installation, feel free to reach out to the Twin Cities Fence team today. We'll be more than happy to come out to your residential or commercial property to provide you with a free estimate. Give us a call today at 612-443-1948 to setup a consultation with one of our fence experts.