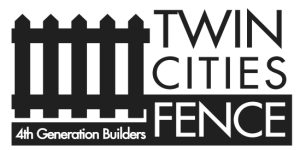 You have probably heard, at some point in your life, that there is a measure of truth in every cliche. There is at least one cliche that pertains to the good work we do at Twin Cities Fence: The cliche of the white picket fence represents an ideal of American life. It is linked to the American Dream of owning a patch of land and a home for our family. This cliche takes us back to a time when life was simpler, and it appeals to our nostalgic natures. Twin Cities Fence does not deal directly in cliches, of course, but we are happy to help our customers feel more closely connected to simpler times by virtue of the service that we provide.
High Quality Fence Installation Services
More accurately, that should read, 'the services (plural) that we provide.' We offer a wide variety of fencing types, materials, styles, and colors, and we offer those things not only to residential customers, but to businesses, corporations, and public and private recreational facilities. There are countless purposes for fencing, and countless styles of fencing to meet those purposes. But there is really just one way to provide those services, and it is by employing the hard-earned expertise of fencing construction that ensures durability.
If you are a homeowner who has a fence that was installed by Twin Cities Fence, you likely know all of this information already. You may use our services periodically because even the most expertly installed fence will occasionally require repair. Some forces–out of control automobiles, construction vehicles operated by inattentive drivers, and/or severe weather–tend to outmatch the strongest fence. If your fence has been damaged by one of those things, Twin Cities Fence offers expert repairs to return your fence to its previous state of durability and beauty.
Residential Fence Options
If you are a homeowner who wants to add to the beauty of your property by installing a fence that will endure, Twin Cities Fence should be your choice. If you want to relive memories by having us install a more rustic style wood fence, we have multiple options to meet your needs. If you prefer something more modern, even futuristic, that helps you look forward or create new memories for your family, we have styles to meet your needs.
From the white picket fence to the modern security fence, Twin Cities Fence can help you make your property exactly as you want it. Call us at (612) 443-1948 for more information about our fencing contractor services.