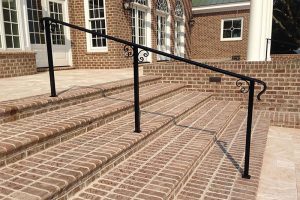 Handrails are an essential element in our daily lives, providing support and stability in various settings. Twin Cities Fence has you covered when it comes to improving both style and safety with their custom handrail options tailored specifically for your space. Let's explore their selection of custom handrails as well as their benefits!
Classic Wrought Iron Handrails
Wrought iron handrails offer timeless elegance and durability, featuring intricate designs crafted with solid construction that add a sense of sophistication to any setting. Their wide array of applications makes these handrails suitable for indoor and outdoor spaces alike; in particular, due to their ability to withstand harsh weather conditions while having minimal maintenance requirements as well as customizability options that meet individual aesthetic preferences.
Sleek Stainless-Steel Handrails
For an ultramodern and contemporary aesthetic, stainless steel handrails make a fantastic choice. Renowned for their sleek yet minimalist designs, these rails blend beautifully into any architectural style imaginable. Additionally, stainless steel offers exceptional strength and corrosion resistance – making it suitable for interior and exterior applications alike. Furthermore, its benefits include long term durability, easy maintenance, as well as creating an elegant, streamlined appearance.
Natural And Rustic Wood Handrails
When creating an inviting atmosphere, wood handrails can add the perfect natural charm. Available in various species and finishes, wood handrails provide comfortable gripping surfaces while their rustic charm enhances any décor. With eco-friendliness a key consideration, wood handrails make great additions for warm environments!
At Twin Cities Fence, customization is key. Their team understands that every space has different requirements, so they specialize in creating handrails tailored specifically to you – be it material, design, or shape preferences – while adding functional support as well as visual interest to any room in which they're placed.
Custom Handrails Twin Cities
Twin Cities Fence offers custom handrail solutions tailored specifically to your preferences when it comes to safety and style enhancement. From the classic charm of wrought iron, modern aesthetics of stainless steel, warm wooden or custom designs that reflect your personal taste or even just customizing one for you – their team has the expertise needed to bring them all to fruition. Invest in custom handrails today to create a safer environment while elevating the overall aesthetic appeal of any space in which they're placed; contact Twin Cities Fence at (612) 443-1948 and discover a handrail solution tailored just to you and enhance the beauty of the surrounding environment!