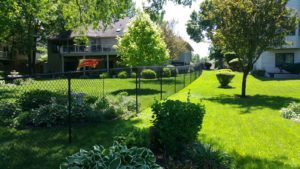 Twin Cities Fence has been working for four generations to build Chain Link Fences for Anoka, MN. We offer both installation and repair services and are are known for our reliable and professional-grade installation. We offer many services including: fence repair, gate installation, and other commercial and residential fixtures throughout the Anoka. We work with our clients to make sure we know exactly what you want and are here to guide you through the entire process. We want to ensure that your chain link fence is properly installed and will be long lasting. We also offer services to help you care for your property once we have finished with installation. Whenever you need us for repairs or replacements, we'll be there.
Fencing Installation Services
The main services we provide at Twin Cities Fence deal with fencing installation. We specialize in installing a variety of fences of differing materials, sizes, shapes, and designs, ensuring that we can meet every residential and commercial fencing installation need.
Chain Link Fence Installation
Chain link fences are one of the most popular fences. You often see them around backyards, playgrounds, schools and baseball fields. The reason chain link fences are such a popular choice is because they are a great material that is strong and durable to last throughout Minnesota's tough seasons. Chain link fence also offers you great options such as height, color and is a great price. No matter what reason you decide to install a fence, including protecting your property, increase the value, or define property boundaries, chain link fences are a great choice. Available in both galvanized steel and color coating, chain link fences can be customized for any residential or commercial need.
At TC Fence, all of our chain link fence are made from galvanized steel. Galvanized steel is a great material because of its durability and strength. All of our galvanized chain link fences are hot dropped in zinc coating which helps reduce weather and corrosion. Galvanized fencing are also an affordable option and are low-maintenance.
Our Galvanized Chain Link fences can also be colored. This is a great option to create a chain link fence that goes well with your property. We have a wide range of colors to create one that matches well with you. Colored chain link fence systems also have the added benefit of having a dual layer of protection against corrosion, providing a longer-lasting fencing system.
If you are looking for Chain Link Fence Installation in Anoka,  Twin Cities Fence is a great contractor that works with you to install a great fence for your Anoka property. Contact us today at 612-443-1948, or email contact@tcfmn.com.