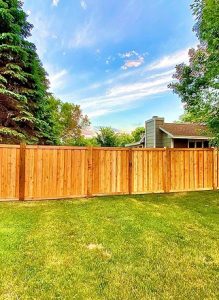 A backyard is a sanctuary, a place where you can relax, unwind, and enjoy moments of tranquility. To create the perfect outdoor oasis, privacy is key. That's where Twin Cities Fence comes in. We specialize in providing exceptional wooden privacy fencing options that not only add a touch of elegance to your backyard but also offer the seclusion you desire. In this blog post, we'll explore the various wooden privacy fencing options available to transform your backyard into a private haven.
Classic cedar fencing: Cedar is renowned for its natural beauty and durability, making it an excellent choice for privacy fencing. Cedar boards offer exceptional resistance to rot, decay, and insect damage. Additionally, cedar has a unique aroma that adds a pleasant ambiance to your outdoor space. Twin Cities Fence offers a variety of styles and heights to suit your preferences, allowing you to create a classic and timeless look.
Redwood Fence Installer
If you're seeking a stunning, natural wood fence that exudes warmth and sophistication, redwood is an excellent option. Redwood boasts rich hues and striking grains that enhance the aesthetic appeal of any backyard. Furthermore, redwood is highly resistant to warping, shrinking, and insect infestations. By choosing redwood privacy fencing, you'll enjoy both privacy and an eye-catching focal point for your outdoor environment.
Composite wood fencing: For those who desire the look of wood but prefer a low-maintenance option, composite wood fencing is an ideal choice. Made from a blend of wood fibers and recycled plastics, composite wood offers the natural appearance of wood without the need for regular staining or sealing. Twin Cities Fence provides composite wood privacy fencing in a range of colors and finishes, allowing you to customize your backyard while minimizing upkeep.
Horizontal slat fencing: If you're looking to add a modern twist to your backyard, consider horizontal slat fencing. This contemporary style features horizontal wooden slats placed close together, providing both privacy and a sleek, stylish appearance. Horizontal slat fencing complements various architectural styles, and Twin Cities Fence can tailor the spacing and width of the slats to achieve the desired level of privacy and aesthetic appeal.
Privacy Fencing At An Affordable Price
Creating a private backyard retreat is essential for enjoying outdoor activities without unwanted interruptions. At Twin Cities Fence, we understand the significance of privacy, beauty, and quality. Whether you prefer the timeless elegance of cedar, the natural allure of redwood, the low-maintenance benefits of composite wood, or the contemporary flair of horizontal slat fencing, we have the perfect solution for your backyard. With our wide range of wooden privacy fencing options, you can enhance your outdoor space, increase your property value, and transform your backyard into a serene and secluded haven. Invest in Twin Cities Fence today and let us help you build the perfect wooden privacy fence that reflects your style and provides the privacy you deserve. Your dream backyard oasis is just a call away!