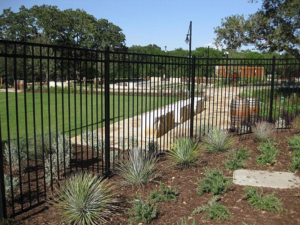 Many people assume that having a fence installed on your property is extremely expensive. You may be surprised to learn that it can actually be a very affordable option for local residential and commercial properties in Minnesota. In addition, a new fence adds value to your property and improves the overall curb appeal. Twin Cities Fence can work with you to make sure that this new investment matches your budget and all of your expectations.
Affordable Fencing Materials From A Trusted Local Fencing Company
There are many different fence materials to choose from based on how much you are planning to spend. Some of the most affordable, durable and low maintenance fencing options include:
Aluminum Ornamental Fences
Chain Link Fences
Vinyl Fences
Choosing one of these fence materials has many benefits. In addition to being affordable options, these materials can also withstand the harsh weather of Minnesota and do not require much (if any) maintenance from year to year. This means, your initial investment will go a very long way and you can expect your fence to stand the test of time. If you are unsure about which materials to choose, our installation team can help you. We have experience with all types of fencing materials and can make a recommendation that will work for your specific needs. If you are looking for privacy, safety/security, property line division or a new look for your property, we can help you make the perfect choice and complete the installation process quickly.
Offering Affordable Options For Home & Business Owners Alike
Our company has been serving homeowners and business owners in Minnesota for many years. We are committed to providing excellent customer service as well as a safe installation process during the COVID-19 pandemic. We are considered an essential business and have been able to continue to complete full-service fence installations during this time. We can complete the entire installation process virtually, including providing you with a quote and a timeline, answering your questions and accepting payment without physical contact. We are always upfront about our timeline and costs, so you do not have to worry about any surprises, and you can ask any questions that you may have before the job even begins.
A new fence on your property does not have to cost a fortune. When you partner with our contractors, you will get the fence you want for an affordable price. To learn more about affordable fencing options, give us a call at 612-443-1948.